Dear Fellow Mum on the Autism Journey,
Throughout the last 7 years since our first daughter was born we have had many struggles to overcome as a family. My Mum passed away from cancer and soon after due to financial pressures hubby started doing Fly In Fly Out work to Western Australia. Our son was then born and brought so much joy to our family. As a baby he seemed to develop at the normal rate but was perhaps more active than our NT daughter. Around the 15 month mark I started to notice a couple of things like he wouldn't turn to his name or point to what he wanted. He was a very, very busy boy but I would always get told 'ahh boys are just like that'. After a trip to Bali at 18 months old with our family and our nephew that was 6 months younger, I started to look in to what may be going on as there was quite a difference in their behaviours. I remember quite clearly watching a video that a Mum had uploaded of her autistic son of what he would do at 18 months of age. In that moment it hit my like a lightning bolt, our son was autistic.
I knew I had a choice in that moment to either wallow in the pain or to make positive out of it. I made an appointment with my GP and insisted that I get a referral for a Paediatrician and so the long process to diagnosis began. I am not one to wait around, so in the meantime I started seeing a Speech Pathologist with him and accessed the Early Intervention Program that was available to us. All the staff were amazing and also acknowledged my thoughts on what I thought may be going on.
The 2 year old stage is a difficult time with any child but is perhaps exacerbated with kids on the spectrum. I soon learnt how to avoid meltdowns and when not to take him to places that would spark him off. Community is so important when it comes to support and I have always had amazing people around me, the joy of living in a small country town. The other thing that I did was to try to take care of myself. When hubby was home, I would take time to go out for dinner with the girls, watch a movie or just go out for a coffee.
We finally had our appointment to seek the ASD diagnosis, a 6 month wait mind you, when something completely unexpected happened. I was holding my son at childcare when I suddenly collapsed and couldn't talk or move my body. I was completely aware of his screams as the staff took him outside to the playground while I was cared for. The fear our son must have felt not knowing what was going on was something that weighed very heavily on my mind as I was airlifted to the Royal Melbourne Hospital after they discovered I had suffered a stroke. The treatment I received allowed me to walk out of hospital just 3 days later and in time for his 3rd birthday.
He appears not to have been affected by the events that dreadful day but as he still only has limited words, it's hard to know. The ASD diagnosis was confirmed and in a way I felt relieved that what I had been thinking for so long had been confirmed. I knew that early intervention was the way forward and both my husband and I were positive for the future. We now had the support and funds to help him forward.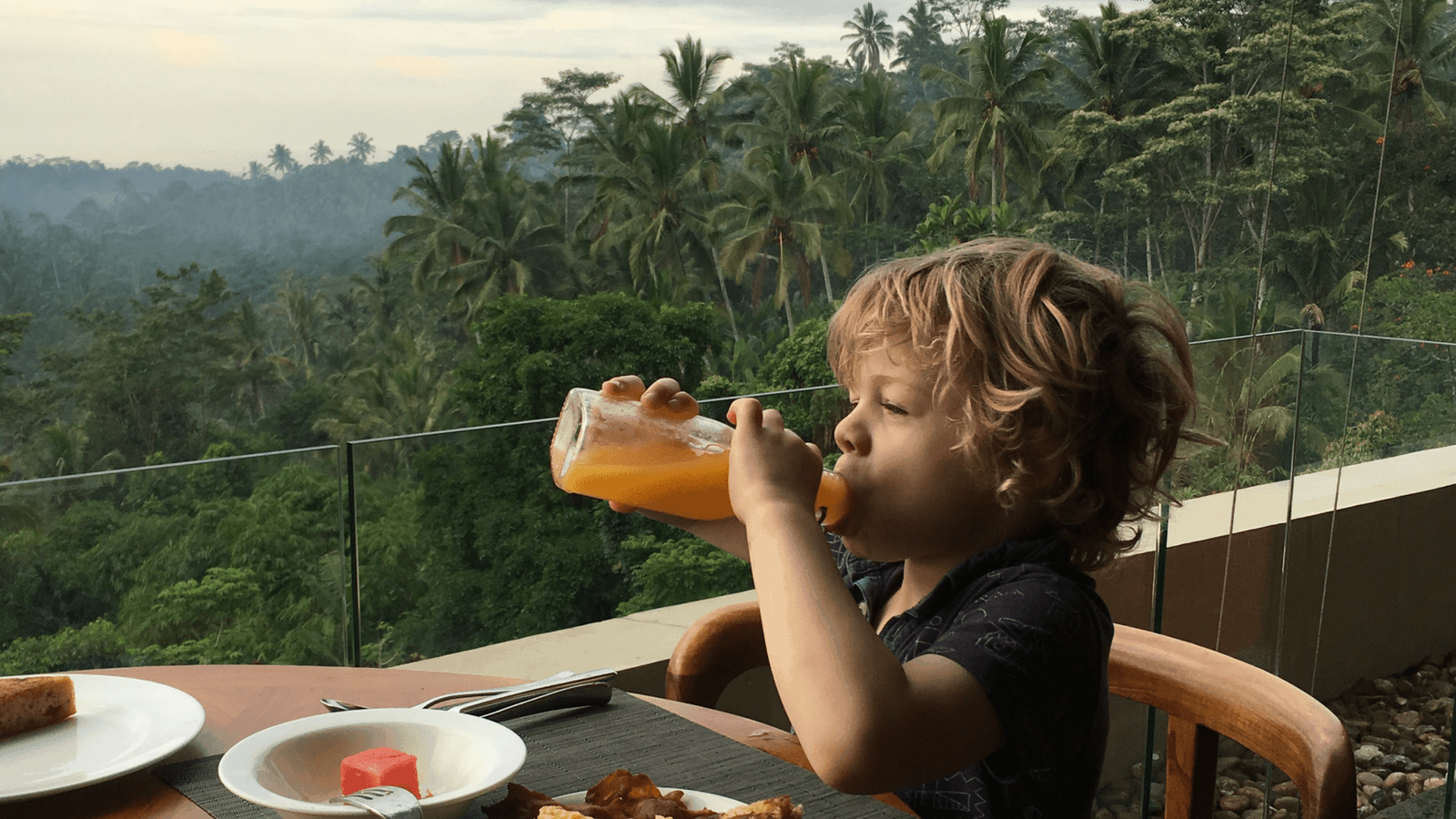 Photo: Mason enjoying breakfast at Padma Ubud Resort Bali
I have always been very open about his diagnosis and perhaps some people think I'm too open. I have written about it on my blog, chatted about it on radio interviews about my stroke and will chat to anyone that wants to listen. I feel that embracing it rather than shying away from it is more beneficial for our family and most importantly him.
Life is definitely not all easy though. I miss being able going to the park while the kids play and enjoy a coffee. He is a runner and my eyes at all times while we are out and about must be on him. I miss that at the age of 4.5 yrs he has still not called me Mum. I miss being able to go out for dinner and not be on edge the whole time, sitting still is not his strong point. I wonder about school and how he will cope and learn. We are considering the local special school and even though I know it is best for him, it is still hard. I wish for a full night of sleep, I think he has slept through maybe 3 times in his whole life.
But for all the hard things that come with being his Mum I wouldn't want it any other way. He gives the most lovely hugs and kisses. He has such a great attention span when it comes to lining up his cars. He pushes us to become better and more understanding parents. We are his life and even though it is going to be hard, he is our son that deserves the world and we will give it to him.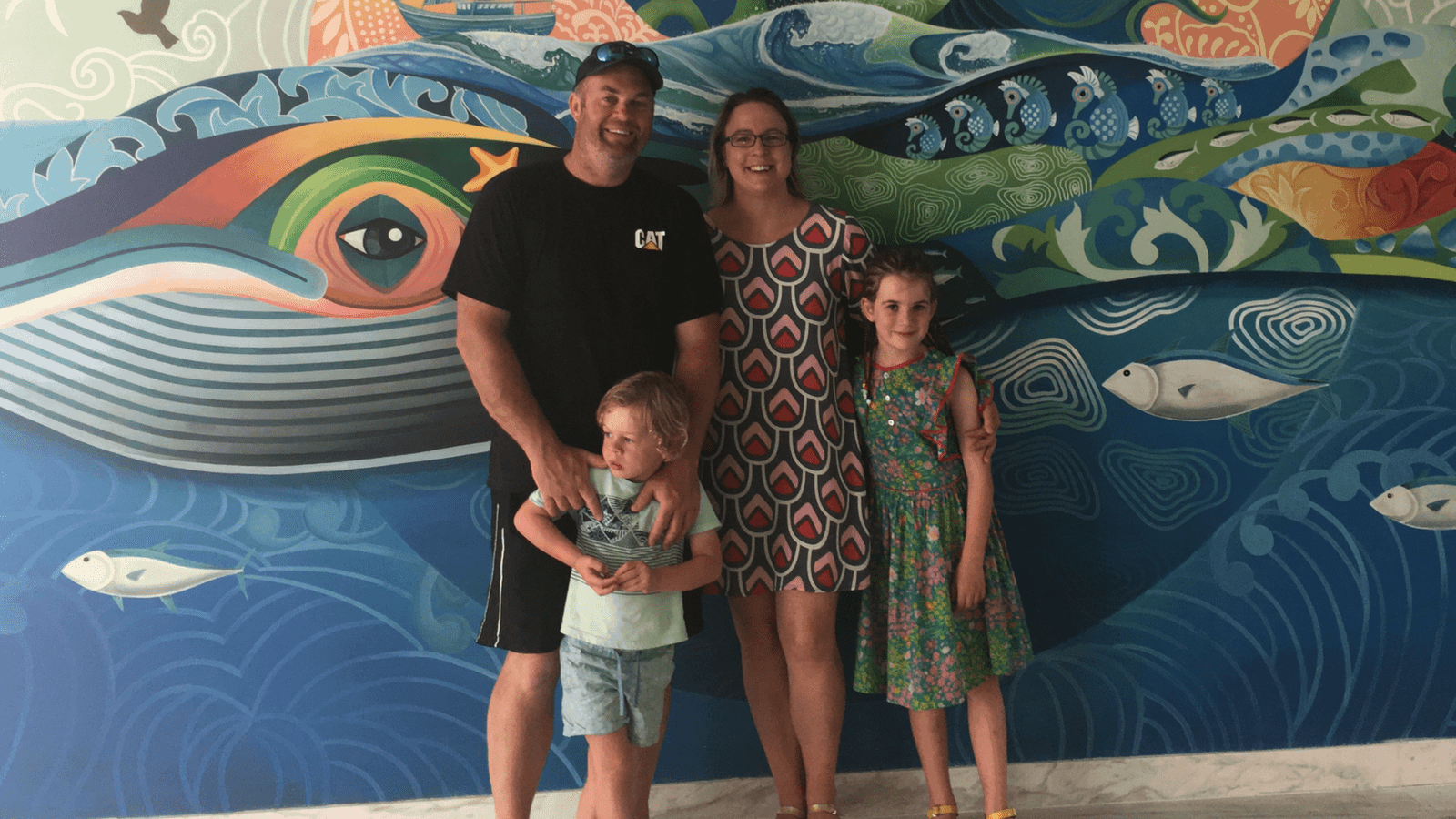 Photo: Our family at the Grand Mirage Resort in Bali Nov 2017
I know how hard it is to be an autism Mum and each of us goes through different emotions and feelings about the whole process. One thing that I have learnt through our journey is that life is short and each day must be treasured. Most days will feel like utter crap and when you finally get to sit down at the end of the day you are exhausted and spent. But there will be glimpses of joy, hold on to that and in your darkest hours acknowledge the good.
Love Kate. xxx
You can find out more about Kate on her website –  www.rollingalongwithkids.com, where she posts about traveling to Bali with children with special needs.